Well I figured since I couldn't post the Pacquiao-Cotto video up I would post this video up on the site and write something about the boxer that has had the most influence on me.
Arturo Gatti was the guy that got me into boxing. I first saw his fight with Mickey Ward a little after it happened and I was told by a friend that it was a ridiculous fight to watch. I wasn't really a boxing fan back then and I only knew some of the big names at the time like De La Hoya, Tyson, etc. So I looked all over for the fight and I finally found it online. When I watched it I was immediately taken back by it. The fans cheering, the blood running, the adrenaline pumping, I wanted to be in that scenario. I wanted fans to cheer for me just as they did those two warriors.
Something stood out about Gatti though. I mean you could say they were both the toughest son of a bitches you're ever going to see get in the ring that's for sure. But something about Gatti's style just made me jump out of my seat every time he threw a combination. That on top of the fact that he could fire punches back just as quickly as he was taking them was something to really behold. I started fighting like him and training like him. I always pushed myself to the limit because I know that's what he did every fight. And I still do that, it is something that will stick with me for the rest of my life and it will be conducted in whatever I do.
From then on I followed the rest of Arturo's career. I saw him win the title against Gianluca Branco and defend it two times successfully until he ran into Floyd Mayweather Jr. I was probably the only person to think he could win against Mayweather, maybe I was just blinded because he was my hero but I really thought he could pull it off. Unfortunately it was a completely one sided fight and Mayweather put a beating on Gatti. Gatti's heart still shined though as he showed no quit in between the 6th and 7th round though when they stopped the fight. He was actually biting down on his mouth piece, asking to go one more round. If that doesn't show heart I don't know what does.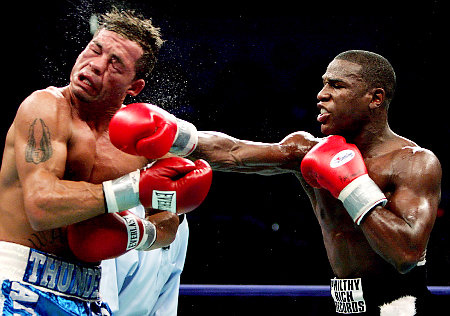 He then moved up to welterweight to fight for a welterweight title against an undefeated fighter named Thomas Damgaard from Denmark. I remember the day too, it was January 28, 2006. That night I was fighting for a Kickboxing title in New Jersey and Gatti was just moving up to welterweight. I didn't even want to go to the fight that night because I wanted to watch Arturo. But it was so cool for me because I felt like I was fighting on the same card as my idol. So i decided to tape it and after I won I rushed home to watch it. I figured it was going to be our night to shine. And it was. Gatti would knock him out late in the 11th round. We both won titles that night.
Gatti then went on to lose his next fight for a welterweight title against Carlos Baldomir and then lost to Alfonso Gomez in his final fight. Both fights he lost by knockout and it was hard for me to watch. But in each one of these fights, he stood on his back foot and swung for the fences until he was put down. The man never showed any quit, and that's what drew me towards him and towards boxing as a whole.
On July 11, 2009, Artuo Gatti was found dead in his condo in Brazil. Apparently he was strangled by what some say was a purse strap while he was totally intoxicated. Immediately his wife of a year was accused because all of the clues pointed at her. But later on, the Brazilian authorities called it a suicide. A second autopsy is being conducted in Canada, his hometown. I'm not going to get into a whole discussion about this because I don't want to talk about this, but I know he wouldn't kill himself and so do the people that were close to him. The fact that his will was changed 2 weeks prior to his murder to give his wife everything should provide a little idea as to what really happened.
Gatti was never the greatest boxer, but he is someone that always put fans in the seats and gave them their moneys worth. He always came to fight no matter what the odds. I want you all to realize that fighters like this don't just come and go. Someone like this only comes around once and a while and very rarely have the impact like Gatti did. Gatti was known to have saved boxing when it was in the dumps. If I could be like him to even the smallest percentage, I would be satisfied. Nothing was better than watching a Gatti fight because you knew you were going to see a fight. If you can get your hands on some of his fights take advantage.
Here is a tribute video that I created after his death...
RIP Champ, thank you for having such an impact in my life
XthephenomX